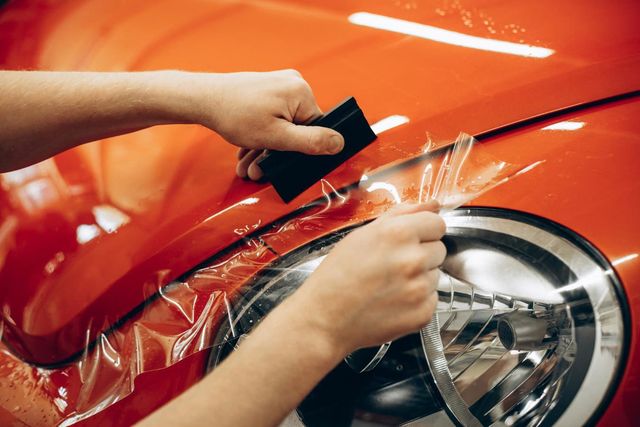 How Much Does Paint Protection Film Cost?
Looking to get your new car wrapped with paint protection film but not sure if it is worth the cost? From what paint protection film is to the process to complete the job, we have gathered the necessary information for you to make an educated decision.
What is paint protection film?
Paint protection film is the best way to protect your beautiful new investment. It is a clear, elastomeric polyurethane film that will protect your car against environmental damages such as light scratches and stone chips. Here at Mum Sports we are certified Xpel paint protection film installers that can wrap your entire car to help mitigate the damage to the paint leaving your car shiny with Ultimate PPF or a matte finish with Stealth PPF. This technology provides great protection while preserving the look of your vehicle.
When considering paint protection for your vehicle, you want to think about what will give you the best benefit for the money. Xpel PPF provides essential features of protection. Some of these features include being virtually invisible, durable with lasting protection, self-healing technology, stain resistance, edge seal protection, and warranty coverage. Our certified installers use a custom cut that has allowed them to crack the code on hiding the PPF so that it is tucked under the edges to avoid it collecting dirt and appearing as though there is a "seam." Paint protection film is so durable that it provides long lasting protection. With its self-healing technology, PPF provides you with the peace of mind that minor scratches, swirls, or light abrasions can be resolved using heat. With its ten year warranty coverage, our clients can bring it in or any Xpel installer nationwide if any issues arise.
What does it protect? Exterior condition affects to consider.
Your car may come into contact with several environmental factors that could put its paint at risk of scratching, chipping or fading. These factors could be as simple as a small rock on the freeway or a long term issue like fading from the sun. Depending on how you drive or where you park your car can be a huge part of your decision to get your car covered with PPF. Scratches can come from something as simple as walking too close to your car with your keys or parking too close to a bush. Regardless of where or how you obtain your scratches, you want to make sure that your car is protected from the what ifs. Whether you are on the freeway, in your neighborhood, or on your way to work, stone chips can be one of the biggest hazards to your paint on your car.
Chemical reactions can also be a hazard to your car's paint. Because the car is wrapped with the protective layer over the paint, chemicals have no way of getting to the paint itself. This makes it impossible for them to bond and cause damage to the paint. The result is that your paint job ends up looking as new as it did when you applied the PPF. It is unpredictable when you may come across bird droppings and bug damage. Paint protection film acts as a shield against elements of nature such as bird droppings and bugs. The droppings and bugs will sit on the film rather than the paint itself making cleaning up a breeze without the risk of it damaging the paint underneath.
In case of an accident, there may be some surface damage on impact. With paint protection you can minimize the damage to the paint itself and have the PPF replaced. In some cases, scraps may have minimal to no damage underneath the paint protection film. Besides rain and snow, exposure to the sun can cause fading which may leave your paint looking dull. Worse than that your paint dun is uneven fading. If your car is parked often when it is half in the shade, you may end up with a tan line on your car, jokes aside, PPF has powerful properties that block those harmful UV rays thus preventing fading. Protective car films keep your paint free from dings, scratches, or chips. While these are cosmetic issues, they would later lead to bigger issues. Because cars are made of primarily metal that can rust when left in the rain, it could lead to significant problems.
How is it installed?
First we prep for PPF installation by washing the car with a decontamination wash following a paint correction if needed. We do one more final panel wipe down. While the vehicle is being prepped, the material is being cut so that it is ready for a fitting using a sprayed fitting solution. It is then applied to the vehicle for a final fitting to make sure the edges are tucked away for that seamless look. A squeegee is used to get out all remaining water and bubbles. Depending on the size of your vehicle and how much is getting wrapped, it can be up to a week.
Determining your paint protection film price
How big is your car? The size of your car will be a big determining factor on how much material and labor will be needed to complete the job.
What brand of film is being used? Some brands have been on the market for longer with a higher reputation and this could be the cause of a higher price tag. You want to keep in mind the quality of the material and what success rate this material has had in the past. Here at Mum's Sports we use Xpel which is a brand that has been on the market for quite some time, has continued to have a high success rate with our customers and customers nationwide, and sustains competitive prices.
Uniqueness of the car. If your vehicle has unique cuts and corners, this may increase the price of the installation. Unique vehicles require a bit more time and attention to detail to ensure high quality application, therefore there may be an increased charge.
How long does it last? When trying to figure out the total cost of your installation, it is important to know how long it will last. If it is maintained and taken proper care of, your PPF has a warranty that will cover you for 10 years. If the product lifts, peels, or becomes discolored, we can fix it. The warranty is nationwide so if you are no longer living in the area, you can take the warranty information with you to any XPEL dealer, and they will be able to fix the issue for you. This means that for 10 years, your car can sustain its luster and resale value provided that the proper care steps are taken.
Paint protection film is a lengthy process. A lot of hard work goes into protecting your vehicle's paint. First we provide a courtesy wash. We do what is called decontamination wash which removes any build up that may lie on your car using a clay bar.
It is pricey, but is it worth it?
Let's take a look at the pros.
10 year warranty
You are saving money in the long run
It is protecting your car's paint
Enhances the appearance
Reduces the need for washing
Protects against fading
Maintains your car resale value
Now what are the cons?
If damaged it will need to be completely removed and replaced
Can damage the paint if left on for too long or not maintained properly
Can discolor or peel if cheaper products are used and it is not properly installed.
You should also take the following into consideration when deciding whether paint protection film is right for you.
What is the experience of the person applying the PPF? What is the technique? PPF is difficult to apply. It takes years of experience, great technique and certified installers. It is not advised to make this a DIY project. Unless you have the experience with the product and installation, we strongly recommend taking it to a professional. Not only will you waste your time if done incorrectly, you may cause damage to the paint you're trying to protect. Here at Mum Sports, we are certified installers with years of experience and a perfected technique with tucked edges for a more seamless look.
What parts of the vehicle do you want to protect? Do you spend a lot of time on the road especially the freeway where there is gravel and speeding cars? Where do you park your car? Do you frequent busy parking lots like at grocery stores, busy work campuses, shopping malls? Many of these issues are everyday issues that the average person may encounter. If you said yes to any of the above, you may want to consider getting your car wrapped with paint protection film.
We believe that paint protection film should be a priority upgrade to shield your paint from stone chips and provide you peace of mind with the 10 year warranty. Here at Mum Sports we strive to provide you with competitive prices and exceptional service. We are a great source of information and are here to help you protect your vehicle.
Our high attention to detail makes us stand out from the rest leaving our clients happy and satisfied.If you need to wrap your car with paint protection film, give us a call at 510.680.2499. Mention this blog post to receive 10% off PPF packages.